Panama Isthmus Railway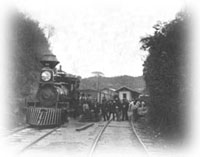 Panama Canal Railway was established in 1855, and it ran successfully around the so-called Gold Rush era. It is a railway that's 48 miles (77km) in length through Panama city, between the Pacific and the Atlantic. It is the only railway in Panama and is the shortest transcontinental railway in the world. Although it runs only one round-trip per day now, it's a major sightseeing attraction as you can see beautiful scenery and historical sites.
Panama Isthmus Railway and Japanese People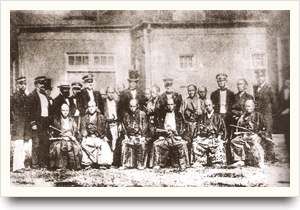 The exchange of the instrument of ratification for the Treaty of Amity and Commerce between the United States of America and the Empire of Japan concluded in 1858 was supposed to be held in Washington, D.C. So the Edo Shogunates government sent delegates to the United States in early of 1860. (See the right photo) They crossed the Pacific by an American battleship and transferred to another battleship. They finally reached Panama in April and crossed over to the Atlantic by taking the Panama Railway.
※The map bellow shows the route the delegates took.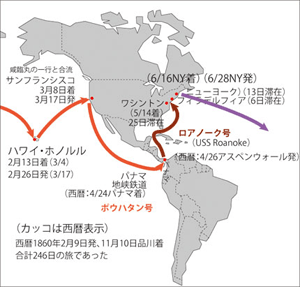 The vice ambassador, Muragaki reported the situation as follows, " When the steam got strong, the busy announceer told us that it had almost left. While I was afraid of how it went, as it must have been different from a ship, it had started to move with a tremendous sound. In this way they became the first Japanese who took the railway. This delegate to the United States had 77 members in total, and there are many reports on it. One of them showed that the magistrate、Mr. Chujun Oguri who went there as an inspector, made various suggestion for the Shogunates government after coming back to Japan, based on the knowledge that he got when he visited America. He was briefed that the Panama Railway was established as a joint-stock corporation, and the idea seemed to be the basis of the proposal to establish the "Hhogo Corporation" which was the first joint-stock corporation in Japan.

(The above is a picture of the Panama Railway drawn in the diary of the delegates.)
From Railway to Canal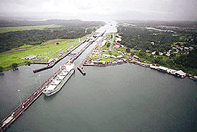 Sixty years has passed since the Panama railway was opened. After Panama Canal was developed, the demand for the railway sharply decreased. The canal took the place of a railway as "Golden Horse" that supported the world's distribution. However, Panama won the hard competition for gaining the right of constructing the transcontinental canal, and the existence of the panama transcontinental railway was the one of the reasons for the victory. In a sense, it can be said that the Panama railway is the mother of the Panama Canal.
Introduction of Publication

"It is a great pleasure for me that the first book written by a Panamanian in Japan was published in the year of 100th anniversary of the Panama Canal's opening. Cerebrate the frontier-like spirits of the herald in international distribution, and wish that the spirits are enhanced through the publication of 'The Golden Horse'."
Mr. Yasuyuki, Fujishima,
Ex-Japanese ambassador in Panama